Authorized Parts and Service
Dockside service available in Mission Bay, Point Loma, Chula Vista, encompassing all of San Diego's marinas and boat yards.
Admiralty Marine is Point Loma's premier marine engine parts and service center.
Our technicians are Volvo Penta factory-trained annually, keeping up to date on engines ranging from 1 to 16 liters and from outdrives to Volvo Penta's new IPS pod system.
Services include:
Authorized Warranty Repair
Annual Engine & Transmission Maintenance
Engine Rebuilding & Overhauling
Engine Cooling System
Outdrive Reseal, Prop Shafts Inspection, Grease Props, etc.
Vodia Alarm Code Diagnosis, Compression Tests, Battery Tests
Mechanical Engine Inspection & Take Oil Sample for Analysis
Quarterly Anode Change, Helm Software Updates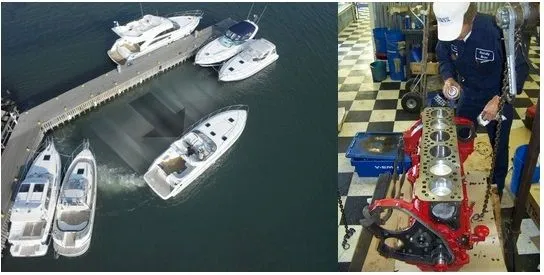 San Diego | Admiralty Marine | 619-222-0333